Why UK Entrepreneurs Increasingly Sell to Foreign Markets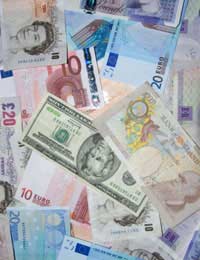 Although recent UK export figures show a slump in demand from foreign countries, this is not unusual. The World Trade Organisation has reported that global trade fell 12% in 2009.
Despite this, currency exchange rates are making UK goods competitive in many world trade areas, particularly the United States and the eurozone. These exchange rates are helping to buffer the effect of the global downturn in trade.
UK entrepreneurs have also developed a keen sense of the possibilities foreign trade offers. Britain may be no more than an island off the coast of Northern Europe but it has excellent air, ferry and container ship links across the world. Entrepreneurs can fly to almost any country to conduct business. They can also send products with relative ease thanks to airports such as Heathrow and ports such as Dover.
Destinations
The country that takes most UK products is the United States. In 2009, according to trade figures released by HM Revenue & Customs, the US imported more than £33 billion of British goods.
Germany comes second to the US with a figure of almost £25 billion, and France third with £18 billion.
Other countries that favour UK products are the Netherlands, the Irish Republic, Belgium, Spain and Italy.
The main areas of growth for British exports in 2009, however, were elsewhere. UK products sent to Saudi Arabia increased by 16.2% to £2.6 billion. Exports to China rose 5.3% to £5.1 billion. And Singapore bought £2.8 billion worth of goods and services from the UK, an increase on the previous year of 4.3%.
Products
The world's favourite UK products are medicaments. These include veterinary products. In 2009, global sales amounted to £17 billion.
Other UK top-sellers abroad are petroleum oils; mineral oils; cars; engines; aircraft and spacecraft.
The main areas of export growth for the UK are organo-inorganic compounds (up 47.4% on 2008 and worth £5.2 billion); medicaments (up 16.1%); and telecommunications equipment (up 10.6%).
Forecast
Business forecasters believe that overall UK export growth will surge forward.
The Ernst & Young Item Club (ITEM) predicts an annual rise of 8.5% in exports over the next few years. Item believes this growth will have two causes: steadily improving British competitiveness and the demand for UK goods and services from the BRIC economies.
These economies are Brazil, Russia, India and China. ITEM's forecast is that UK exports to BRIC will rise by 11.7% a year.
Emerging Economies
The BRIC countries are good examples of emerging economies. According to ITEM, they will experience annual household income growth rates of 14%. This compares well to the UK where consumers are struggling to stop the value of their incomes from falling.
Entrepreneurs looking to expand may well wish to study foreign markets and the opportunities that lie there. ITEM says that goods from the UK will become increasingly attractive abroad. The most popular of these are likely to be optical, electrical and hi-tech. But ITEM also makes the point that the British service sector will benefit.
The service sector, which includes financial services, requires expertise. UK entrepreneurs and their companies frequently demonstrate they possess this in a worldwide context.
Government
UK entrepreneurs can find it hard to act alone, however. ITEM suggests that the UK Government mustn't watch from the sidelines. It must set up incentives for entrepreneurs to invest in research and development. It must also make radical changes to education to improve the skills of UK workers.
The Government does already have some support schemes in place for entrepreneurs who wish to sell abroad or expand their foreign trade. The UK Trade and Investment (UKTI) agency can give practical advice, for example.
UKTI keeps up to date with world trade news. It offers guidance to British entrepreneurs on business opportunities wherever these arise. It can also provide financial help in the form of grants.
Tough
Despite tough economic conditions in the UK, entrepreneurs still have opportunities. The fact that many of these are in other countries is a challenge. But the UK business world is grasping the benefits of global trade. Those entrepreneurs who sell to foreign markets are helping to secure their own, and the UK's, financial future.
You might also like...