Tips on Dealing with Recession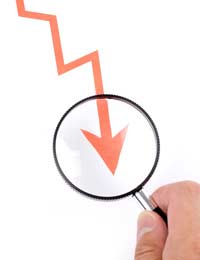 A period of recession is a grim time for everyone. It's made even grimmer by the fact that economists often disagree about policies to combat it. This doesn't send an encouraging message to a business entrepreneur.
Nonetheless, there are certain steps an entrepreneur can take. These may help to ensure a business comes through a difficult economic time intact.
Stick to the Facts
Some sections of the media make a habit of looking on the gloomy side. A recession provides an opportunity for them to take advantage of bad news and spread it as widely as possible.
There's no doubt that a reduction in economic activity, a drop in demand for products and services, and a loss of jobs is serious. An entrepreneur, however, must study the facts and figures in the business pages, and treat with care any over-dramatised suppositions in the front page headlines.
Analyse Prospects
A recession may bring a change in business prospects. A lot depends, of course, on the nature of the business. An entrepreneur who takes heed of the economic facts, however, and applies them appropriately, is in the best position to determine what may lie ahead.
An analysis of prospects for one, two, three and even five year periods of recession may well match the details already in the business plan. If so, an entrepreneur has confirmed the business is heading in the right direction. If not, then it's time to revise the plan and produce alternative future scenarios that keep the business running.
Change Marketing Techniques
Changes to marketing techniques are one of the most popular business answers to a recession. Pre-Christmas high street sales are an example. A few years ago, pre-Christmas sales were rare; retailers waited until at least Boxing Day before announcing their bargains. Now, sales for limited periods in the run up to the December bank holidays are common.
Marketing in a recession doesn't have to mean cutting prices, however. An entrepreneur may prefer to add value to a product or service by offering free gifts, or improving customer service. Such changes in tack for marketing can maintain reasonable sales levels.
Share Concerns
Bad economic news can be depressing. An entrepreneur's struggle to keep a business afloat and ensure income protection is stressful. Nonetheless, other people are in the same position; it can therefore help to alleviate concerns if entrepreneurs discuss them with each other.
Sharing problems should not be about grumbling, however, but about seeking joint solutions. Sometimes, the best way to deal with a recession is to pool knowledge, contacts, and resources.
Continue Looking for Opportunities
Although a recession may suggest otherwise, business opportunities never disappear altogether. An entrepreneur should not necessarily put ideas on hold. Taking a different approach and revising expectations can still keep a business idea alive and well. After all, a recession doesn't mean that every aspect of an economy is in a dire situation.
Easier Said Than Done
To all of this an entrepreneur may well say that advice is fine to talk about but tough to put into action. The answer is yes, weathering a recession isn't easy. Then again, it's in the nature of entrepreneurs to take positive action in trying circumstances.
You might also like...