Keep the Ideas Coming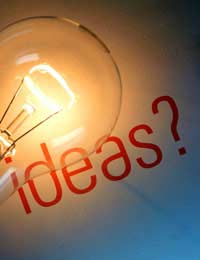 Creativity is often part and parcel of an entrepreneur's life, and can lead to all manner of business ideas. The most visionary of these become the basis for new ventures, but even the smallest ideas can contribute to commercial success.
Keeping a Note of Ideas
Ideas arrive from all types of sources, and at any time of the day. Experienced entrepreneurs can evaluate these ideas quickly and decide on the spot whether they're worth pursuing. They make a mental note of the ones that appear to have some business merit, and dismiss the others from their minds.
Some entrepreneurs, experienced or not, prefer to write down the business ideas that come their way. Then, during a quiet period when they have time for reflection, they check their notes and decide whether anything is worth further consideration.
The criteria entrepreneurs use to make such judgements vary according to business interests. For example, does an idea promote an underused skill that might benefit a business? Or does an idea make a business more efficient?
Developing Ideas
Whatever the idea, it is unlikely to be a ready-to-use commodity. An entrepreneur must develop it and test its robustness in the face of daily commercial pressures.
Once again, the type of business dictates the extent and nature of idea development and testing. One initial approach is for entrepreneurs to discuss an idea with family, friends, and employees to gauge their reactions and obtain positive criticism. This is also the point at which somebody may recognise whether an idea is already the intellectual property of another business.
Another way of starting to develop an idea is for an entrepreneur to imagine it's already in use in his or her business. The questions this generates help decide an idea's fate. How does it fit with the existing technology of the business, for instance? Is it a great idea, but does it require a substantial amount of investment elsewhere in a business to make it effective?
If an idea weathers this process well, it may then be time for an entrepreneur to engage in formal market research. Obtaining third party views of an idea, particularly if it's a new product or service, often settles whether an idea moves on to the planning stage.
Planning
An entrepreneur needs to maintain a flexible approach to planning. After all, there may be a need to make changes to an idea to give it the best chance of success. This is also when an entrepreneur's creativity may have to resolve problems that crop up.
The planning process for an idea tends to fall into a sequence of stages: designing a product or service; creating a prototype; applying a patent; obtaining finance; ensuring a suitable operational structure; and developing a marketing plan. These may or may not apply, of course, according to the idea and the industry in which it features.
Checking on Progress
Throughout the planning stage, an entrepreneur must keep two issues in mind:
Does the idea make commercial sense?
Is it technically practical?
These may well be the questions an entrepreneur asked when an idea first came to light. Nonetheless, their repetition helps ensure an idea increases a business' profits.
You might also like...