How Webmail Can Help Your Business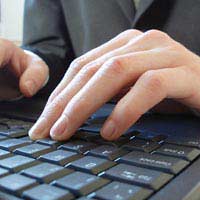 Good communication is vital for an entrepreneur. Phones, faxes and emails all play their parts in keeping businesses running as effectively as possible. Increasingly, though, entrepreneurs are finding use for another communication tool: webmail.
What is Webmail?
Webmail is a variation of email. With webmail, an entrepreneur can send, receive and review electronic mail messages and attachments. The difference between webmail and email, however, is that with webmail an entrepreneur can access messages using any computer around the world as long as it has an Internet connection.
With email, an entrepreneur must set up an account on a given computer – usually in an office. It's also possible to set up email accounts on certain types of mobile phone and handheld computers. Email therefore requires specific electronic devices.
With webmail, the web host of a business stores the mail messages on one its servers. The messages don't lie on an office machine. As a result, an entrepreneur doesn't need to use office or handheld computers to have all the benefits of email communication.
Web Host
Web hosts are companies that maintain websites on the Internet. As part of their packages, many web hosts offer webmail services to their clients. This means that an entrepreneur with a website can set up webmail for all those connected with the business.
Ease of Use
With webmail, there's no need for staff out of the office to carry a company laptop, phone or handheld device to access messages. To receive, send and check messages at home, for instance, they simply have to enter a given address in the Internet browser. A box then appears on screen. All this requires is a username and a password. The computer then gives full access to the webmail facility.
Accessibility
Webmail doesn't limit accessibility to home computers. It's possible to enter the address, username and password in any computer that has an Internet link. There are no restrictions.
This is an improvement on emails received and sent on handheld devices. These give access to messages but their size limits the readability of some attachments. With webmail comes the advantage of viewing attachments on a larger screen.
Security
One concern sometimes raised about webmail is security. With mail messages transmitting across the Internet, it's reasonable to wonder who else can view them.
Webmail is very secure, however. Access, for instance, is by a three-stage process: web address, username and password.
Just as importantly, web hosts keep the messages on one of their servers. All reputable web hosts use servers with proven security features. An entrepreneur can confirm these by checking a web host's own website where security details are almost always outlined. Alternatively, an entrepreneur can ask the web host what security it offers business users.
The Future
Within the next three years, around 20% of businesses will use webmail. The benefits are simplicity of use, flexibility and security. There's also one further business advantage: entrepreneurs can cut costs by allowing people to work from home without having to supply a computer and create an expensive network link to the office.
You might also like...