How to Negotiate Successfully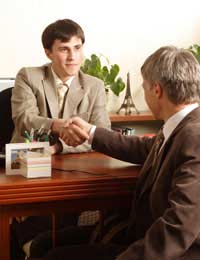 Negotiating is an integral part of an entrepreneur's business life. From obtaining the right terms for a business bank account to agreeing prices for the supply of products and services, an entrepreneur should know how to negotiate successfully.
Preparation
Entrepreneurs must never enter negotiations without being fully prepared. They should always do their homework first.
For example, an entrepreneur may need a raw material to create a product. Before talking prices, terms and conditions with suppliers, the entrepreneur should decide what sort of deal he or she ideally wants. This deal must be realistic and reflect not just the entrepreneur's desire to make a profit but the supplier's capabilities.
This is where preparation is vital. The entrepreneur should make a list of what he or she has to research and then proceed to do so.
Plan B
During this preparation, an entrepreneur should also consider a plan B. When negotiating, an entrepreneur may get the perfect deal without any bother at all. What's more likely, however, is for the negotiation process to uncover other options.
To help cope with these, it's wise to have a plan B and possibly a plan C if the first is unsuccessful. These plans must be practical. Some entrepreneurs, however, believe they can bypass reality and bluff. This can be a damaging assumption and may lead to a breakdown of any serious business talks.
Entrepreneurs who bluff lose credibility if the other side recognises the tactic. Bluffing also suggests that entrepreneurs don't know what they're talking about and are badly prepared for the negotiations. In some instances, bluffing may also come across as a form of bullying.
Confidence and Persuasion
Rather than bluffing, entrepreneurs should show confidence. Solid preparation can help to build this. Entrepreneurs who know what they're talking about and who understand the realities of their business gain respect. With this respect comes a willingness from the other party to listen and to reach an agreement.
Confidence also helps entrepreneurs to persuade someone to see things from their point of view. Calm and consistent persuasion is a far better tool at the negotiating table than bluffing and bullying.
To persuade effectively, entrepreneurs should empathise with the other party. A good negotiator, for example, will try to reach a deal that benefits everyone. This ensures a successful long-term working relationship.
The art of persuasion involves a rational and reasonable approach. Those negotiators who raise their voices, storm out of a meeting or try to shock the other party in some way may get their point across; but they rarely persuade anyone to do anything.
Style, Negotiation and Success
Different types of negotiation require different styles. Sometimes, for instance, an entrepreneur can gain far more by being patient and asking for time to think about a proposed deal rather than rushing into a contract.
A good example of this is advertising. An entrepreneur may request a quote for a full-page colour ad in a magazine. The salesperson will give a standard price for the ad and try to close the deal. At this point, the entrepreneur should ask for time to consider the quote. It won't be long before the salesperson comes back with a lower quote or a deal that offers cut-price ads over a period of weeks.
The secret to negotiation is therefore preparation, confidence, an ability to persuade, and a flexible style. By following such an approach, entrepreneurs can arrange the deals they want and build successful businesses.
You might also like...