Balance Your Work and Lifestyle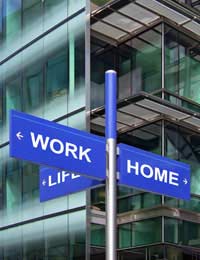 Successful entrepreneurs are passionate about their work. This doesn't mean they need to put in excessively long hours, however, and risk burning out. A far better approach – for business and personal health - is to place work in the context of lifestyle and maintain a sensible work-life balance.
Identifying Work-Life Balance Problems
There are indications that an entrepreneur's work-life balance tilts far too heavily in favour of work. Excessive time spent away from home, a failure to plan ahead to deal with family matters, and rushing around showing a high degree of stress demonstrate that something is wrong.
It's difficult to break free from this type of situation, particularly when an entrepreneur feels that the success or failure of a business depends directly on his or her efforts. The question to ask, though, is whether such a frenetic attitude to work really gets things done. There's a distinction between feeling passionate about a business and letting it dominate every aspect of a lifestyle. The result of the latter is rarely happy: an entrepreneur's business and well-being inevitably suffer.
Different Ways of Working
Commercial pressures, the need to repay loans and please investors, and the demands of customers often create the impression that these are the forces controlling businesses. Entrepreneurs should never forget, however, that despite such issues, they are still in charge.
Entrepreneurs should therefore consider the best ways of working that ensure both business and personal lifestyle success. These may include delegation, part-time working, working from home, days off, holidays, and flexible hours.
Direct Benefits of Improving the Work-Life Balance
It's a well-researched fact that improving a work-life balance reduces stress. With a drop in stress levels, the quality of work becomes better; productivity increases; fewer mistakes occur; and there is less chance of sickness. These benefits far outweigh the apparent advantages of working long and tiring hours.
Applying the Same Principles to Employees
An employee who has a good work-life balance can also bring such benefits to a business. It's therefore in entrepreneurs' interests to help every employee manage their work to maintain a sensible approach.
Entrepreneurs should first establish the basic needs of a business and what the employees must achieve. They can then consult with staff and find out what they want. The options on offer may include flexitime, part-time working, job-sharing, more variety of work, and changes to the working environment.
With regard to flexitime, entrepreneurs should bear in mind that employees who have children under the age of six, disabled children under the age of 18, or who care for an adult, have a legal right to ask for flexible working arrangements. Entrepreneurs can only turn down a flexible working request from such staff when there's a clear business reason for refusing it.
Written Policy
After talking matters through with employees and their representatives, entrepreneurs should create a written policy, and encourage staff to use it. Entrepreneurs should also lead by example and show the policy in action through their own actions.
If the policy meets everyone's needs, sickness and turnover should reduce, and productivity increase. An entrepreneur, the employees, and the business all gain.
You might also like...