Using Foreign Manufacturers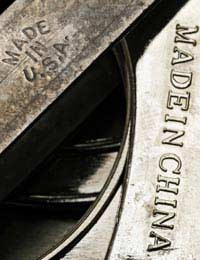 Any business that makes goods has to cut the cost of production to the minimum. If not, there's a risk of being unable to compete in the marketplace.
To reduce costs, many firms look to foreign manufacturers. Lower production costs can far outweigh the price and delays of transportation. And thanks to well-established links, many foreign manufacturers are now well aware of the standards UK businesses expect. Nonetheless, there are potential disadvantages as well as benefits to using a foreign manufacturer.
Quality Control
One potential drawback is quality control. The first a business may know of any problems is when the completed product arrives at the warehouse from abroad. Or worse still, when a customer complains.
This is not to suggest that foreign factories produce inferior goods. But a business must be confident that a foreign factory exercises quality control to the necessary standards.
There are a number of ways to help avoid problems. An entrepreneur should visit the factory and discuss quality standards before signing a contract. These standards must then become part of a written agreement. Furthermore, an entrepreneur should arrange for regular quality control tests when batches of goods arrive from the factory.
An entrepreneur should also ensure the foreign manufacturer uses appropriate raw materials. A contract should be specific about these and include penalty clauses if the manufacturer fails to meet such obligations.
Sweatshops
Using foreign sweatshops is unethical. Press stories about such factories have damaged the reputation of some UK businesses.
A further task is therefore to investigate a foreign manufacturer's working practices and pay structure. The purpose of the investigation is to check for evidence of exploitation.
Any entrepreneur who has doubts about what a foreign country regards as normal practice in a factory should contact a local business consultant. It's also worth seeking advice from the UK Department for Business Innovation and Skills (BIS).
Trade Agreements
Trade agreements with countries can bring UK businesses financial benefits. The UK and the European Union arrange such agreements. Entrepreneurs should check with BIS for any deals that may assist them.
Currency Exchange
Dealing with foreign manufacturers involves currency exchange. Fluctuations in currency can make a significant difference to the cost of production. It's wise to speak to someone such as the business manager at your bank for details of recent changes in currency.
To steer clear of currency problems, entrepreneurs should agree a set price with a foreign manufacturer that remains the same for a given period. This can protect against adverse currency changes. It also allows more accurate planning.
Transport
Many goods from foreign manufacturers arrive in the UK on container ships. This is often the cheapest option. To arrange transport, entrepreneurs should speak to a shipping broker.
Using cargo planes is another possibility. Planes are certainly a quicker form of transport but more costly.
If the factory is in Europe, Western Asia or North Africa, a further alternative is lorries and ferries.
Tariffs and Duties
When transporting goods from abroad, an entrepreneur must know exactly what tariffs and duties he or she has to pay, and to whom. There is also paperwork to complete. A competent transport company will provide advice. BIS can also help.
You might also like...