What Role Do Ethics Play in Business?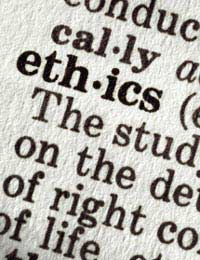 You can split business ethics into three parts. The first is the way a company deals with its customers. The second is the manner in which a company relates to its business partners. The third concerns the standards a company expects its staff to follow.
The companies with the best reputation in all three areas have an ethical code. This makes a series of points similar to these:
All company staff must treat everyone with respect
No one on the company must at any time give information that misleads
All staff must know and abide by the company's business guidelines
All staff must understand and comply with the law
Why Have an Ethical Code?
In a competitive business, though, an ethical code begs two questions: why do we need such a code, and don't we risk damaging our profits by having one?
These questions come from the belief held by many that business is war. Some business people admit that unethical behaviour can be very profitable. Their attitude is simple: it's a dog eat dog world.
The problem is covering up unethical behaviour. Customers, business partners and staff prefer honesty even if unethical behaviour boosts profits. If a business engages in something untoward and it comes to light, many feel aggrieved and ashamed.
A cover-up, however, creates a cycle of deception. Some businesses get away with this. Others crash spectacularly.
Effective Business
A lot of business gurus now argue that having an ethical code creates better business practices. These practices lead to three major business benefits: higher sales, fewer legal issues and better staff retention.
Generally speaking, consumers are happy to buy the products and services of a company they know is ethical. When they do so, consumers feel good about the product or service. This applies even when they know they could buy something similar for a lower price.
An ethical company is also likely to face fewer legal challenges. This stands to reason if part of a company's ethical code is to make sure all staff know and follow the law.
Finally, many staff prefer to work in a company with high ethical standards. They know the company treats everyone with respect. Which means they receive a fair deal over pay and conditions.
Introducing an Ethical Code
Any business that wants to be ethical must have a suitable code. But this is just the start. Everyone in a company must be sincere about ethical behaviour - and managers must lead the way.
A company must also explain its ethical code to staff, business partners and customers, and keep on doing so. It's not enough to point out that an ethical code exists within a company. All those associated with a company, including its customers, must understand its ethical views.
This is why the companies that have such codes make their ethical views known in adverts and on packaging. Cynics might say that such companies are using ethics as a sales tool, and in a way this is true. But how else can companies get their message across?
Key Role
Ethics can therefore play a key role in business. As an entrepreneur, you must decide whether you wish to embrace an ethical code. If you do, your business can benefit significantly.
You might also like...