Does Your Age Matter in Business?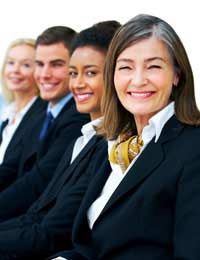 Despite the prevalence of opinion and comment about business being more suited to youthful entrepreneurs, the facts tell another story. People over 50 years of age establish and run one in every six new businesses in the UK. Moreover, the businesses of mature entrepreneurs boost the UK economy by more than £24bn a year, and have an average turnover of £67,500.
Retirement or Entrepreneurship?
Many older workers feel that age discrimination is the inevitable prelude to retirement. The frequent threat of redundancy also confirms the impression that at a certain age, there's nothing left but employment stagnation - or early retirement.
This really doesn't make sense, however. People in their fifties still have 20 – 30 years in which to work and supplement their pensions if they so choose.
The perceived inability to progress further in the workplace, and uncertainty about pensions, are in fact the stimuli for many entrepreneurs aged over 50. The prospect of being financially independent is also a powerful motivating force, and explains why most mature entrepreneurs say they intend to continue operating their businesses for as long as they can.
The alternative – to find another form of employment – has its attractions but isn't always realistic. One respected advice and research organisation claims that anyone who becomes redundant at 50 years of age has a mere one in ten chance of getting a new job.
Experience
The mature entrepreneur, however, has one significant advantage over younger people: experience. Drawing on thirty or more years of knowledge when you start your own business can get things off to a flying start.
This experience also comes from hard-won knowledge of how a business works. Perhaps because of this, a mature entrepreneur usually maintains his or her business as a one person operation or, if employees are essential, keeps the number down to no more than five. "Small is beautiful" is a popular concept among older business people.
The "small is beautiful" approach extends into every aspect of a mature entrepreneur's business, including finance. There are certainly older people who remortgage their homes and use their credit cards to establish and run their enterprises. Many, however, draw on their savings or use their credit ratings for modest bank loans.
Support
Banks are well disposed to mature entrepreneurs who've shown a sensible attitude to money over the years, but they're not the only ones to offer support. The government has recognised the contribution a mature entrepreneur can make to business and the economy.
Consequently, the government has schemes to provide help at the beginning of a new enterprise. For example, if you've been unemployed for at least six months before you start your own business, you can retain state benefits to give you the chance to become established.
Age and Motivation
Motivation runs high among mature entrepreneurs. In fact, when polled, 66% said they wished they had begun their businesses sooner. Age therefore doesn't matter, except of course for the distinct advantages maturity can bring to business.
So if you feel you cannot start your own business because of your age, you might want to think again. There are thousands of mature entrepreneurs who are now realising their business dreams.
You might also like...