Becoming a Social Entrepreneur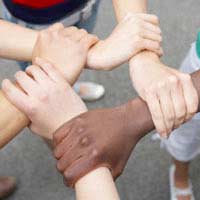 In many respects, a social entrepreneur is the same as a business entrepreneur. Both need the same ability to turn opportunities and ideas into reality.
Social entrepreneurs, however, place a different emphasis on their work. Put simply, social entrepreneurs focus on community benefit.
This doesn't mean that social entrepreneurs don't want to make money. They have to do so to be viable. In fact, some social entrepreneurs work within profit-driven companies. It's what the money goes on that marks their work as social rather than commercial.
Examples
Many social entrepreneurs find their ideas in the world around them. These ideas usually stem from social problems.
For example, you may be part of a small ethnic group. The members of the group may feel isolated, and may be struggling to enter mainstream life in the UK.
To solve this problem, you use your entrepreneurial skills to set up a magazine for your community. The magazine deals with people's specific needs.
You then go further and create a radio station. This gives people information and a sense of purpose. The community begins to feel as though it can take a fuller role in everyday UK life.
Another example is regeneration. You may live in, or know of, an area of the country that has high unemployment and poor housing.
By using your entrepreneurial skills, you get local councils and central government to create opportunities. You work to set up deals that bring businesses to the area. You arrange education partnerships between the government and local colleges to focus learning on skills-based training.
Both these examples are ambitious. But both have worked in the real world. Social entrepreneurs have driven them forward.
Help
Every good entrepreneurial idea needs money behind it. If you're new to this type of work you may also need a mentor. In the UK there are a number of organisations that can help.
Ashoka UK is a group of some of the world's leading social entrepreneurs. Ashoka UK can provide access to money and a support network.
Changemakers helps young people take social action and change lives. Changemakers works with the voluntary and private sectors, and affects around 10,000 young people each year.
The School for Social Entrepreneurs (SSE) can give you training and opportunities. Its purpose is to help people use their skills as entrepreneurs for social benefit. If you want to set up a social enterprise or charity, SSE may be able to assist.
Training for Life is a charity that sorts out problems of poverty and unemployment. If you have an idea that relates to such work, it may be able to help with one of its training courses.
UnLtd is a charity with a clear aim: to support social entrepreneurs. To do this, UnLtd can give you money and mentoring support. In return, you must show you have commitment and vision. You must also want to change things for the better.
If you have an idea but don't know where to go next, contact one or more of the above organisations. They can give you the boost you may need to become a successful social entrepreneur.
You might also like...