The Importance of Setting Goals and Changing Them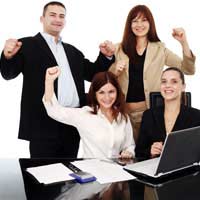 Everything has a beginning and an end. This is as true for entrepreneurial activity as for any other aspect of life.
Many people don't see life and activities in such terms, however. They don't think about beginnings and endings. They simply try "to get on with things".
For an entrepreneur, this attitude can be disastrous. Setting goals to reach a specific end is crucial. It's one of the chief rules to success in business. An entrepreneur must know the direction he or she is taking and where it is leading.
The most successful entrepreneurs also abide by another rule. At first, this seems to partly contradict the purpose of setting goals and pursuing them. But the rule is as important as the first: entrepreneurs must be prepared, at any time, to change their goals. This applies even if a new goal is radically different from the original.
Motivation
The most elementary purpose of setting goals in business is to motivate. Even the most positive entrepreneurs need motivation. They must feel a sense of purpose. They must be work towards a specific target with the intention of achieving it.
Motivation is what keeps entrepreneurs focused on success. Like all human beings, they have good days as well as bad days. This is exactly where goal setting proves its worth. With clear goals ahead of them, entrepreneurs can overcome obstacles and push forward.
Meaning
A goal must also mean something to an entrepreneur. The financial goals in a business plan are, of course, vital and self-explanatory. Reaching them may guarantee the success of an enterprise. Falling short may lead to business failure.
Goals need to be more than figures in a plan, however. The goals that really matter to an entrepreneur and maintain their motivation are those that have emotional resonance.
This may seem dangerous ground. Standard business wisdom urges entrepreneurs to keep emotion out of business. But the goals that entrepreneurs never lose sight of are those that appeal to their hearts as well as their heads.
Consider an example. Anita Roddick, the founder of The Body Shop, displayed ideal qualities of business sense and leadership. But she also gave personal meaning to her goals by linking them with campaigns for ethical trading and environmental responsibility. This blend of business and personal goal setting drove her forward.
Time Frames
Goals also need time frames. Setting a goal and not deciding on a date to achieve it is vague, and vagueness reduces the importance of a goal.
In business, time frames aren't always easy to establish, however. This is why entrepreneurs often set milestones on the way to a final goal.
Milestones are targets for achieving each essential element that together make up the goal. Reaching each milestone can be a business victory in itself.
Entrepreneurs usually find it relatively easy to set dates for their milestones. Studying these dates then gives a better idea of a time frame for reaching the ultimate goal.
Flexibility
Reaching a milestone is also an opportunity to review the overall goal. This is the point at which an entrepreneur should assess whether the goal is still achievable.
If a goal is going to be easy to meet, an entrepreneur should be flexible and open-minded. Changing the goal and making it harder to reach can be challenging and potentially more profitable.
By the same token, entrepreneurs who realise they are going to fall short of their goals shouldn't carry on regardless. Goals are not set in stone. It's not the goals that are in charge but the entrepreneurs who set them. By being flexible about goals and prepared to adapt to changing conditions, entrepreneurs can actually keep their business ambitions on track.
Business Tool
After all, goals are a business tool. Successful entrepreneurs appreciate the vital role goals play in motivating and driving a business forward. They also know that in a fast changing world, they must rewrite goals and adjust the time frames as necessary.
You might also like...