Finding Inspiration for the Big Business Idea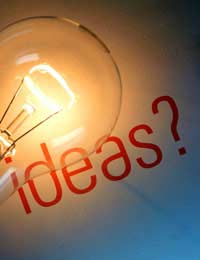 It can happen that an entrepreneur has a sudden inspiration for a great business idea. Such an idea may arrive out of the blue from goodness knows where, and prove to be the foundation for a successful and lasting enterprise.
Unfortunately, however, this scenario rarely occurs. In fact, those who wait for inspiration to strike may never actually become entrepreneurs. The reality is usually different: finding a suitable idea for a business can be hard work (although inspiration does occasionally make an appearance and help matters along).
Generating Ideas
Most people have to make a conscious effort to generate business ideas. The ways of achieving this vary according to individual preference, but the one common strand is the need to persist.
One starting point is to find a solution to a problem. The problem must be business related, and the solution has to be practical, so the first place an entrepreneur may wish to look is the workplace he or she is most familiar with.
Some budding entrepreneurs are reluctant to consider problems in their immediate place of business. They appear to believe that the purpose of being entrepreneurial is to take them into completely new territory. This can be a mistake because at the very least, identifying problems in a familiar environment is relatively easy. Finding solutions may not be so obvious, but the very act of trying to do so kick-starts the idea process.
That said, there's nothing wrong in generating ideas by thinking about possible answers to problems encountered in daily life outside the office or factory. In other words, are there achievable solutions to everyday difficulties?
This emphasis on problem-solving is deliberate. Ideas that propose something entirely new, unrelated to existing problems, face an uphill struggle: businesses or the general public may fail to understand and appreciate them. An idea that resolves a recognisable problem, however, can gain instant popularity.
Improvements
Another way of generating ideas is to look for ways to improve existing products or services. This is a particular feature of the electronics business where the public consistently demand fresh ideas on well-worn themes. Entrepreneurs can learn from this approach and use it almost anywhere.
A further technique to generate business ideas is for entrepreneurs to take a commonplace product or service and criticise it mercilessly. The intention here is not necessarily to improve the product or service, but through analysis and fault-finding to find an unusual slant on something familiar.
Creativity
Generating ideas in these ways also provides opportunities for entrepreneurs to express their creativity. This is where inspiration may actually strike and help to give business ideas a uniqueness that propels them to the status of "simple but brilliant". This is the accolade many business people love to hear.
Idea Development
An idea, though, is not set in stone. It may need to change as the business develops, which means that the person who came up with the idea must always maintain a flexible approach. Sticking to the same concept despite clear indications that it must adapt to suit new circumstances is potentially disastrous.
Nonetheless, some ideas are strong enough to survive the challenges posed by a new business. Whatever happens, though, successful entrepreneurs must work determinedly to keep the business ideas flowing.
You might also like...