Why I Might Need a Solicitor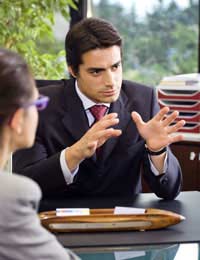 For entrepreneurs starting a new business venture, employing a solicitor may seem an unnecessary expense. Good solicitors, however, can save businesses money in both the short and long-term.
Business Structure
Every business must have a trading structure. This may be self-employment, a limited company or a partnership. Self-employment – or sole trader status – is a fairly simple arrangement that doesn't have to involve a solicitor. Limited companies and partnerships are a different matter.
A partnership, for instance, should have a legal agreement drawn up by a solicitor that's binding for all the business partners. This agreement can ensure that the division of profits is open and fair. It also protects the remaining partners if one decides to leave the business.
Franchises
It's always wise to ask a solicitor to check the fine print of a franchise agreement. A solicitor can spot the clauses of an agreement that may cause problems for an entrepreneur. The solicitor can also advise how to resolve the problems – or whether to avoid the franchise altogether.
Business Premises
Too many people enter lease agreements for business premises without knowing the full implications of what they're signing. A lease agreement, for instance, may contain complex references to rent increases. When these increases occur, they may seriously damage a business' profit margin.
A solicitor can explain to an entrepreneur the potential drawbacks of a lease agreement.
Regulations
Almost every industry has national and European legislation that affects it. Breaches of this legislation can lead to fines and business disruption.
A solicitor can give advice on what the law means and how an entrepreneur can ensure a business functions legally.
Employees
The moment an entrepreneur takes on staff, employment law comes into play. Employment law covers a huge range of topics from disability access to redundancy. A failure to abide by the law can affect the credibility of a business and cost a great deal of money.
It's crucial for an entrepreneur to understand at least the basics of the regulations. Even then, it's useful to have a solicitor on hand for advice about employment situations that inevitably arise at short notice.
Business Ideas
With business ideas, solicitors are invaluable. They help protect an entrepreneur's ideas, and they confirm that these ideas are not violating the intellectual property rights of other businesses.
Contracts
Most businesses enter into contracts of one sort or another. A solicitor's role here is twofold: to draw up a contract for an entrepreneur, or to check a contract that another business wants the entrepreneur to sign.
Some entrepreneurs use standard contracts for most transactions. Nonetheless, a solicitor still has to check the wording and arrange for the contract to have legal validity where necessary.
Debt
No entrepreneur can afford to ignore the issue of debt control. Trying to manage debts can be stressful, particularly when a business faces bankruptcy if customers refuse to pay for goods and services.
A solicitor's help can protect against bad debts. A solicitor can also give advice on collecting money owed to a business. This puts debt control on a legal footing and can maintain business cash flow.
Finding a Solicitor
The Law Society can help find a solicitor. Trade associations may also give advice about solicitors that specialise in certain industry sectors.
You might also like...