Are You Ready to Stop Being an Employee?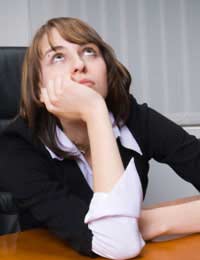 There's a world of difference between being an employee and a self-employed business entrepreneur. An employee, particularly one in a large organisation, performs a certain role; in return, he or she receives not just a regular salary but a PAYE tax and national insurance service; sick pay; paid leave; various perks (depending on the company); and possibly a pension at the end of it all.
Business entrepreneurs, on the other hand, have only themselves, their ideas, and their visions to rely on. They're responsible for sorting out their tax and NI. If they're sick, they may not make any money, and if they take a holiday from the business, they have to find someone to run it in their absence. The perks can be few and far between for a long time, and putting aside money for a pension may not be an option until success finally comes.
This is not an attempt to paint a bleak picture of a business entrepreneur's life. Nonetheless, employees must accept what they're leaving behind if they want to focus on becoming their own boss.
Motivation
Some people are not concerned about discarding their employee status. They relish the thought of self-reliance and personal responsibility. They're full of confidence, have plenty of energy, and are passionate about what they hope to achieve.
This is the sort of motivation a business entrepreneur needs. Once a person makes the decision to go it alone in business, it can be difficult to return to former ways. Strong motivation, however, must combine with a realistic outlook and a carefully considered business plan: despite entrepreneurs' best efforts, too many businesses fail in the first few years of trading.
Being Your Own Boss
To be your own boss – this is the idea that stimulates many people to consider entrepreneurship. It is, in fact, the most likely reason given for entering business as an entrepreneur. It's not enough, though, to simply want this.
The practical issues such as tax and NI are not a major problem – HM Revenue and Customs has a lot of good advice to offer. As for the potential challenges of no sick pay, paid leave, or pension, it's possible to overcome these. Many people even prefer the flexibility that can come with being your own boss.
The flip side of the coin, however, is the lack of a set working week and regulated conditions of employment. Entrepreneurs can find themselves working long hours, travelling extensively, and producing little income. Future success may offset these sacrifices, but at the time it can come as a shock if you want to be your own boss and are more used to a nine to five existence.
Management
Another possible challenge is the need for basic management skills. Most people have these, even if they've not held management positions. For instance, almost everyone organises and plans their lives to some extent. Such standard abilities, combined with a readiness to take advice as and when required, can help the newly self-employed resolve any early problems.
Therefore the prospect of management shouldn't discourage anyone from becoming an entrepreneur. If the business progresses well, specialists can take over management functions at a later date. Even so, management work can appear daunting to the uninitiated.
The Answer to the Question
Ultimately, the answer to the question "Are You Ready to Stop Being an Employee?" is personal. Entrepreneurs are people who have a high level of initiative, and can certainly make up their own minds. This is precisely the way things should be, and for many people is the first decision that leads to a whole new way of life.
You might also like...