Get Expert Business Advice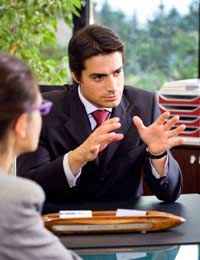 There's absolutely nothing wrong with seeking business advice. To do so is not a sign of weakness or incompetence. On the contrary, it's a sure indication of thoroughness and caution that most fellow entrepreneurs respect.
Who Needs Advice?
Just about every entrepreneur needs business advice – and not simply at the start of a new enterprise either. There are very few people who can manage without seeking a few expert words to point them in the right direction from time to time.
The nature of our economy is such that even the smallest business venture has to deal with specialist areas such as taxation, technology, and the law. Sometimes the issues are straightforward and an entrepreneur can handle them using general business knowledge and good sense. On other occasions, however, an entrepreneur needs assistance from an expert who can resolve a problem and possibly even help to cut costs and improve efficiency.
Another advantage of advice from a specialist third party is that it provides business feedback. Comments about a business may not be to an entrepreneur's liking, but may prove useful if received with an open mind.
Advice is Often Free
Further good news about expert advice is that entrepreneurs don't always have to pay for it, especially when they're setting up a business. Initial conversations with accountants, for example, are often free of charge because accountancy firms want to build a long-term relationship. Similarly, manufacturers and trading partners will gladly discuss business matters if they see the worth of an idea, and the potential to make money from it.
The government also has various forms of free advice for entrepreneurs. Politicians are keen for businesses to succeed, so they've ensured there is a vast range of advice available on the Internet and in person. This includes information on subjects such as employing people, finance and grants, trading standards, health and safety, and international trade. The information is there for the taking, so why not use it?
Trade Associations can supplement such business advice with recommended experts of their own. It's unlikely this advice is free - apart from an initial consultation – but it can provide helpful insights into the business challenges encountered in certain specialist areas.
The Business Plan
There is no reason why an entrepreneur cannot write a business plan. Difficulties may arise, though, over financial forecasts, sales, and possibly market research. Sometimes banks and other investors like to see a high level of detail, depending on the type of business and the ideas that lie behind it.
Because of the importance of the business plan, this is an area where entrepreneurs should always seek advice unless they are extremely sure about the content. Even then, it's also worth running the business plan past a trusted colleague to determine if it has covered every angle, and will convince the most cautious investor to part with money.
Advice Matters
Although business advice can sometimes be controversial or negative, nobody should shirk from obtaining it. A few words from a seasoned expert can make a huge difference to business success or failure.
You might also like...