Motivating Yourself and Others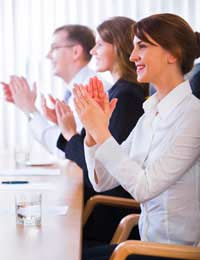 The skill of entrepreneurs to motivate themselves and others relates directly to success in business. At the same time, whether they realise it or not, motivation is something everyone uses to a greater or lesser degree throughout each day. Realising this, and using the knowledge, can therefore be the first step in unlocking motivational ability.
Self-Motivation
For an entrepreneur, working life is often about motivating people to act on a business vision. In other words, an entrepreneur must display a talent for leadership and supervision. This begins with self-motivation.
It's relatively easy to be well motivated, especially at the start of a new and exciting business venture. As time goes on, however, and problems pile up, the ability to maintain a high level of self-motivation can wane.
Everyone suffers from this, and because remaining motivated is such a complicated matter, entrepreneurs invariably have different ways of recapturing their drive and energy. This means there are no quick fixes that apply across the board. Nonetheless, a few techniques may help.
For instance, it's useful to stop complaining about problems. Instead, well motivated entrepreneurs take a positive view of any situation and look for the good things within it. They also take a step back and look upon problems as challenges that require solutions.
A consistent display of enthusiasm best expresses this positive view. No matter how tough the situation, an entrepreneur's enthusiasm keeps up the spirits of everyone involved in a business.
Another trick is for entrepreneurs to remind themselves they're in control. Reflecting on past achievements and the reasons why they're an entrepreneur in the first place, can boost self-motivation no end.
The final technique is for entrepreneurs to ensure they have lives outside the world of business. They can then obtain a better sense of perspective. The demotivating factors that sometimes crowd in and cause tension within a business will appear far less threatening.
Team Motivation
Motivation is infectious. When entrepreneurs show clear self-motivation, their teams and employees pick up on it and follow suit.
Entrepreneurs must realise, however, that employees are unlikely to stay well motivated unless they feel they're achieving something; are getting recognition for their successes; and know that they're trusted to get on with their jobs.
Developing and maintaining these psychological factors among teams and employees is far from simple. Nonetheless, there are ways of building both team motivation and general employee motivation.
First of all, entrepreneurs should discourage gossip. Gossip may appear harmless, but it can turn nasty and sap motivation. One of the best ways round this problem is to treat staff regularly with cakes in the workplace, and evenings out. Actions such as these encourage team spirit. In turn, people begin to feel that their work colleagues are also their friends, and gossip (which will always continue in one form or another) becomes less negative.
Another key to team and employee motivation is for entrepreneurs to seek the advice of those they work with, and to listen carefully to the responses. This is particularly effective for team motivation: a team that believes the boss is taking notice of its ideas has a sense of responsibility that drives it enthusiastically forward.
Motivate a Business to Success
Motivation is not the only answer to business success. It's necessary, however, to help a business through the difficult times it's bound to experience. It also ensures that when business is going well, both entrepreneurs and employees gain a sense of fulfilment and maximum job satisfaction.
You might also like...