A Guide to Working from Home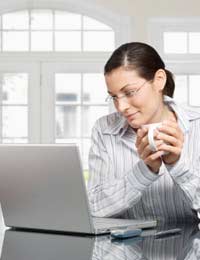 Working from home has significant benefits and equally important drawbacks. Much also depends on the nature of the enterprise, and whether an entrepreneur's work is best suited to an office or factory environment rather than domestic. This guide presents some of the basic benefits, drawbacks, and issues to bear in mind.
Benefits
For many people, commuting to work is a waste of valuable time. For an entrepreneur keenly aware that time is money, commuting can be particularly exasperating. Working from home resolves this problem at a stroke, and can add hours to the working week.
For a new entrepreneur, running a business from home can also be a useful way to reduce start-up costs. Office rental or purchase, business rates, and maintenance fees are costs that anyone entering business would prefer to avoid. Working from home provides this opportunity, and can free up money for investment in product or service development.
The other notable benefit for entrepreneurs with family commitments is the flexibility that comes from being at home. For example, it can be far easier and cheaper to organise a working day around the needs of children if there's no need to travel backwards and forwards from a distant office location. This type of arrangement can be especially helpful when an entrepreneur intends to work part-time rather than full-time.
Drawbacks
The main drawback to working at home, though, can be the issue of children, pets, and home life in general. Some people feel they cannot possibly run a business at home because of the distractions. Obviously, the situation varies from household to household, but it's something an entrepreneur cannot ignore. Family members must realise that for a good part of the day, work comes first.
By the same token, entrepreneurs must exercise self-discipline if they choose to stay at home, and must resist the many temptations they face. These may include lying in bed for half the morning, taking long lunch breaks in front of the television, and pursuing hobbies! A well-motivated business person will resist these, but not everyone does…
Of course, the idea of working from home fails immediately if there's not enough room. Assuming that a business combines a need for a basic office together with storage facilities, a spare bedroom, garage, or shed has to be available. Entrepreneurs may be able to start running a business from a kitchen table with a laptop and a phone, but when success comes it's often accompanied with a requirement for more space.
Other Points to Note
If a home-based business involves regular deliveries and collections by vans and lorries, and possibly late night working in a garage or shed, neighbours may complain. If these complaints escalate to the point where the council intervenes, a business may suffer.
Tenants should also check the terms of their rental agreements. Landlords may turn a blind eye to someone working quietly and not causing a disturbance. They may not take kindly, however, to entrepreneurs who turn their properties into mini factories or warehouses.
One matter that sometimes causes confusion for someone based at home is the phone line. There is actually nothing to stop entrepreneurs turning their domestic phone line into a business line, or arranging for a separate business number. Similarly, broadband companies will happily upgrade an Internet connection to business status. With the phone, however, it's important to ensure that if family members answer it, they do so in a way that reflects business professionalism.
Another issue of concern is insurance. Home insurance policies do not cover business products stored in a domestic property. Home-based entrepreneurs should therefore contact their insurers, who may then send a guide with appropriate advice.
Finally, entrepreneurs permanently using a room or rooms at home for business can legitimately offset a percentage of domestic costs against tax. The actual percentage depends on the number of rooms in business use and the size of the property.
An Option to Consider
Working from home will not be attractive or practical for some entrepreneurs. Others may be able to take advantage of this opportunity to cut costs and start an enterprise on a small-scale. It's certainly an option worth considering.
You might also like...