Use the Internet to Get Business Ideas Going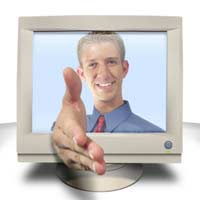 Nowadays, most entrepreneurs assume that any business venture must have access to the Internet, if only to send and receive emails. There's far more to the Internet than this, however. Websites and e-commerce offer profitable business opportunities for entrepreneurs. In fact, many business ideas are exclusively Internet-based.
Internet Basics
To take full advantage of the Internet, the basic requirements are a broadband connection and a desktop computer or laptop. Broadband doesn't need to be specifically for business, but it's wise to check out the various extras a commercial connection can bring. As for the computer, there's no obligation to buy one from the top of a range. What matters far more is a reputation for reliability and a first class warranty.
Entrepreneurs planning to install computers throughout an office or among homeworkers should always have a clear idea of what they want. To avoid spending more than is strictly necessary, the best policy is to obtain at least three quotes.
Email
Email is a fast, cheap method of communication both within a business and to customers. Emails go straight to computers, and increasingly to phones, around the world. Entrepreneurs can therefore market their business ideas across the globe in an efficient and cost-effective manner.
To reach new customers, entrepreneurs can purchase lists of email addresses from specialist providers. Emails can then put the benefits of a product or service right in front of potential buyers.
As business develops, entrepreneurs can also keep records of the email addresses of those who've bought from them previously and may do so again. Therefore, when a new product or service arrives, entrepreneurs can send the details without delay to people they know have an interest in what they're offering.
At the same time, email provides a chance for entrepreneurs to seek feedback from customers. An invitation to "Tell us what you think" about a product or service can provide invaluable customer comments.
Websites
A website is an electronic shop window entrepreneurs can use to display their business ideas. Website construction and hosting is within the budget of most enterprises, and is an opportunity to promote products and services in the homes and businesses of a vast number of potential customers.
There are reasonably priced website building packages available. These have templates to which entrepreneurs add their own text and images. Alternatively, there are many firms who can build a custom website that complements a business concept and promotes it as effectively as possible.
E-commerce
Attracting customers to a website and then encouraging them to buy online does require specialist marketing techniques and e-commerce software. Once again, however, this need not be expensive. Major Internet companies have schemes whereby entrepreneurs can place electronic ads across the web. Entrepreneurs only pay for the ads when someone clicks on them and opens up their sites.
E-commerce software includes an electronic shopping basket and a link to a secure payment system. Most banks offer compatibility with these systems and are more than happy to discuss the financial details of e-commerce transactions.
A Great Opportunity
With online sales expanding rapidly, many established and new businesses have a sales presence on the web. Entrepreneurs can get their business ideas into circulation in a matter of days – or hours if they already have websites – and start to benefit from increased sales.
You might also like...