Do You Need a Team?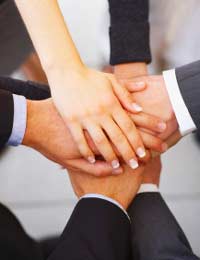 Although some entrepreneurs by the nature of their work are never likely to employ staff, others need to do so the minute they begin their businesses. These employees bring with them skills that entrepreneurs lack, or the size of the business demands. Whatever the reason for employees, however, entrepreneurs should think of them not just as a group of separate individuals but as a team.
Team Basics
There's a lot of debate about the way to define a team. Nonetheless, there's a general consensus that teams should be small; have clear responsibilities; be able to complete all the tasks required by these responsibilities; and be as independent as possible to encourage innovation and enhance performance.
Types of Team
As with definition, the functions of teams vary from business to business. There are three broad types, however, that focus the attention of an entrepreneur on the teams he or she may need: service teams; operational teams; and cross-functional teams.
Service teams in the manufacturing sector are administrative or maintenance staff. They generally give support to the factory floor. In other business areas, service teams offer a product or service direct to customers.
Operational teams have a wide range of alternative names. Essentially, though, they provide skills that create a product or service for external customers, or for other parts of a business.
Cross-functional teams are responsible for resolving problems, and for developing products and services. Membership often comes from other teams, and is representative of most aspects of a business.
Team Management
An entrepreneur must manage each type of team carefully to ensure it becomes and remains cost-effective and efficient. There's no simple answer to the issue of successful team management. It helps, though, if teams understand their roles and goals; know who is responsible for what; and are clear about all available methods of communication.
There are also a few rules of management that can ensure an entrepreneur draws out the best from each team. These include listening to the views of team members; promoting and rewarding creative ideas; offering regular training as necessary; sorting out any problems as quickly as possible; and making members feel part of the decision-making process.
Team Building
These management rules don't just keep a team running. They are vital for team building and teamwork.
Teamwork is a word sometimes bandied about in business without a great deal of thought to what it truly means. Successful – and therefore profitable - teamwork doesn't simply happen. Entrepreneurs must find the right members for a team, ensure they work well together, and then maintain team building and development every working day.
A lot of employees, including management staff, are wary of teamwork. Many people prefer to work on their own, or see teams as a way for management to cut back on staff and reduce individual responsibility. An entrepreneur may have to overcome these concerns by using the principles of team management to show that teamwork and team building can improve morale as well as productivity.
Working Together
Working together in the right way brings positive results. Entrepreneurs who value their teams and the contributions they make unquestionably boost the chances of success in business.
You might also like...