Why a Salesperson is Your Most Important Ally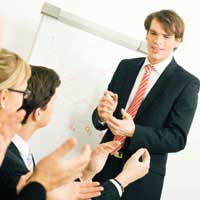 It's almost impossible for an entrepreneur to run a business without a sales strategy. This in turn requires somebody, not necessarily the entrepreneur, to have a talent for selling products and services to businesses or the general public.
Without such a person or team, a business will struggle to remain profitable. In fact, the success of a business plan is likely to depend on the expertise of sales staff.
Sales Strategy
Each business should have a marketing plan with a clearly defined sales strategy. This strategy must state the sales objectives and priorities. In addition, the marketing plan needs to identify the type of customers and how to contact them.
The plan and the sales strategy are the guides for every salesperson within a business. To prove their effectiveness, however, these guides require complementary data such as sales reports and feedback.
Reports provide the facts and figures of sales performance. Feedback from customers via sales staff gives entrepreneurs practical evidence of reactions to products and services. Entrepreneurs must monitor and review this data regularly, and change sales strategies as circumstances dictate.
Recruiting a Salesperson
A salesperson is therefore critical to a business. As well as improving sales revenue and increasing market share, the best salespeople take advantage of opportunities, and suggest new areas into which a business might successfully move.
Entrepreneurs therefore need to know precisely the sort of salespeople that will benefit their businesses. Expertise, experience, market knowledge, previous employers, and former training are all relevant.
Depending on the industry, however, recruiting the right people can pose problems. One method is to approach a recruitment agency. The fees may be high, but an agency can at least match an entrepreneur's criteria to potential candidates without the need for advertisements and initial interviews.
Even so, recruitment agencies can still find it difficult to obtain specialist salespeople. Consequently, an entrepreneur may opt to place advertisements in trade magazines, newspapers, and on the Internet. The drawback to such ads is the possibility of receiving a pile of time-consuming and unsuitable applications. To help avoid this, an entrepreneur should word an ad carefully, and use a specific description of the sales vacancy. A copywriter or an ad agency can assist.
A further method of recruitment is for entrepreneurs to use their business contacts to see if any salespeople elsewhere may be looking for a change of employer. This method of recruitment is informal, but entrepreneurs should nonetheless go through the process of confirming candidates' CVs and references.
Remuneration
Part of the attraction of a new job for a salesperson is the pay package. This generally consists of a basic salary plus commission. Entrepreneurs should advertise the package with on-target earnings (OTE) showing the full annual amount they expect a salesperson to receive. The OTE, of course, must tie in with sales strategies and sales forecasts for the year ahead.
Other elements of a pay package may include a car, laptop, and mobile phone, all of which revert to a business if the salesperson leaves.
Trust
Many entrepreneurs trust their sales staff to get on with the job in hand. If the staff meet targets – or preferably beat them – there's no reason not to trust them. It's still important, though, for entrepreneurs to stay in close touch with their salespeople and seek their ideas and comments. After all, the salespeople bring in the work that keeps the rest of a business in existence.
You might also like...