A Guide to PR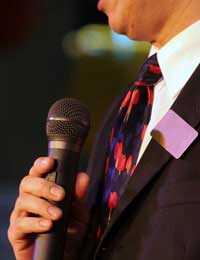 Public relations deals with the development and maintenance of a positive public image for a business. At its best, professional PR encourages people to think and talk about a business in a favourable manner. It also acts as a useful means of obtaining publicity without advertising.
Every Business Can Use PR
Good PR is a magnet for customers, investors, and potential staff. It needn't be expensive either. Medium-sized and large businesses may well have a contract with a PR company, perhaps within their advertising budget; but a small business can employ a freelance PR agent on a daily rate to good effect.
Furthermore, PR doesn't refer solely to television, national radio, and major newspapers and magazines. Local newspapers and small circulation trade journals are excellent outlets for PR work, and can build the credibility of a business in niche markets.
Press Releases
At the heart of PR are press releases. Many publications rely on these as a guide to local news and stories of interest.
A press release must always appeal to a publication's readers. A local newspaper, for instance, usually wants stories about employment, and what a business may be contributing to an area. A trade magazine, however, wants subject matter that interests its business readership.
An entrepreneur can write his or her own press release but it must follow a certain format. It may therefore be best to give the job to a professional, particularly one with local editorial contacts. The press release may then stand a better chance of appearing in print.
As well as local newspapers and trade journals, a press release of a business story can go to the editors of county and lifestyle magazines, and to the producers of local radio and television. When a release catches the attention of local radio and television networks, the national stations will automatically pick it up if the story meets their criteria.
Standard PR Opportunities
A guide to the standard PR opportunities for a business include
A new business product or service.
The expansion of premises.
A successful contract that reflects well on locally-based staff.
New employees.
Charity sponsorship.
Major business anniversaries and events (such as sales reaching a landmark figure).
A press release is ideal for covering the above.
Further Opportunities
There are further PR opportunities to consider, however. For example, an entrepreneur could send letters to the press on business matters; sponsor a crossword in the local paper; conduct a business survey and give a relevant journal the results; and write articles on business topics.
An entrepreneur can also compose articles for the Internet and publish them on the company website. In fact, a website is the perfect place to put the latest press releases and news stories of a business. This form of Internet marketing encourages customers to return to the site and take the business seriously.
Non-Media PR
PR is about raising awareness of a business in a constructive manner. To this end, an entrepreneur doesn't have to rely on the media. Instead, an entrepreneur should think about lecturing on business topics to schools and organisations; becoming an active member of a local trade association; and sponsoring local sports events and teams.
Act Positively
Essentially, an entrepreneur should act in a positive, enthusiastic fashion at all times. This is one of the simplest PR techniques of all, because everyone an entrepreneur meets will come away with an agreeable impression not just of a person, but of the business he or she represents.
You might also like...