Develop an International Strategy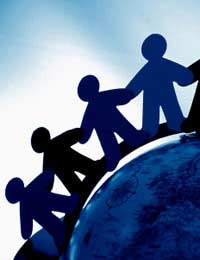 There's nothing to stop an entrepreneur adding an international dimension to a business strategy. After all, some products and services sell just as successfully on the international market as at home. Marketing abroad does require preparation, however, if a business is to take full advantage of the opportunities.
Is There Demand?
Before committing to an international marketing drive, an entrepreneur must establish the demand for a product or service. This is no different to developing a marketing plan for the UK. Market research is therefore critical.
For a small business entrepreneur, market research abroad may seem unrealistic. Help, however, can come in the form of the Internet. If a business already has a website, it may not cost a great deal to issue online advertisements targeting specific countries. These can drive customers to the site where an entrepreneur can make a point of posting prices in the local currency, explaining shipping terms and conditions, and above all asking for comments. Feedback and the response rate to ads can give an entrepreneur the first indications of whether he or she should develop an international business strategy further.
Local Issues
Using the Internet to sell abroad immediately highlights some key considerations that apply to the whole of the international market.
Is there a need for translation services?
What are the export, import and local trading regulations?
What are the implications of local taxation in other countries?
How does a business offer after sales service without a physical presence in a country?
Is it useful to have a local agent and distributor?
What are the shipping costs, including insurance, and how long does delivery take?
How much paperwork is involved?
The European Union works hard to help answer such questions and resolve trading problems within its borders. Other countries have different policies, however, and although most of them encourage international trade, an entrepreneur may need specialist advice.
Resources and Skills
Exporting clearly requires extra resources and skills. This is why it's often best for an entrepreneur to target international sales. By concentrating on one geographical area, learning from the experience, and then expanding according to demand, a business can export with more confidence and less risk.
Cost-Effective
With all the additional costs that inevitably come with selling abroad, an entrepreneur must ensure a product or service is competitive. It's also wise to establish the prices international customers are prepared to pay. A product that's a bargain in the UK may seem unreasonably expensive elsewhere. Knowledge of local economies therefore helps inform an entrepreneur's decisions about exporting.
Product Modification
Whatever the quality of a product, an entrepreneur may need to modify it to suit local circumstances. Such modification may apply to basic matters such as adapting the plug and motor of an electrical appliance to match the power supply. Other changes may include changing the name of a product, packaging it differently, and supplying user guidance in the appropriate language.
Payment
An entrepreneur must have a robust system in place for anticipating and receiving international payments. The business culture in a country may be such that a minimum period of credit is the norm. This means that an entrepreneur can wait weeks before the money finally arrives.
When payment does come, there's also the matter of the exchange rate to consider. Even a relatively minor change in the rate between the pound and a foreign currency can significantly affect a profit margin.
Support
The UK government provides support to any business that hopes to export. In fact, entrepreneurs should take as much support and advice as possible when developing an international strategy. Careful preparation can help save money in the short-term, and lead to long-term profitability.
You might also like...