How Direct Response Marketing Can Help You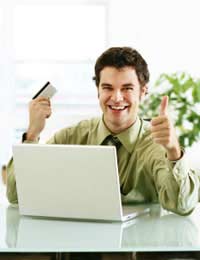 Direct response marketing (DRM) has one aim: to get a customer to contact you and buy your product or service.
This aim is clearly the ideal for any entrepreneur. It's a great concept, and if you can use it effectively it can secure the future for your enterprise. But you need to know how to use DRM to achieve the best possible results.
Definition
Although DRM seems to be a simple enough idea, it's still worth defining it in detail. This can help you decide on the most appropriate way to apply it to your business.
With direct response marketing, customers respond directly to you. Customers make a conscious effort to get hold of you by phone, on the Internet or in person. And when they do so, they are ready to part with money for your product.
DRM is therefore very different to direct marketing. With the latter, you contact the customers to try to sell your product.
Example: Direct Marketing
The best way to show the difference between these two sales methods is by examples.
Suppose you opt for direct marketing. You decide to run a telemarketing campaign, and you employ a call centre to contact thousands of potential customers by phone to get them interested in your product.
This cold-calling technique can work but has several drawbacks. Many consumers don't like unwanted phone calls. The response level is therefore low. What's more, even if some people make a purchase they do so on the spur of the moment. They may come to regret their decision, and to hold a grudge against your company. This can affect further sales campaigns.
Example: Direct Response Marketing
When you use direct response marketing, you employ an advertising medium. This may be radio, television, the printed media, mail order or the Internet. You use this medium to explain your product and to invite people to contact you to buy it.
Your advertising makes it clear what people have to do to get hold of you. You give a phone number and, if you wish, an Internet address.
With DRM, people contact you because they want to. They've had time to think about their decision. And when they ring you or shop online, they have their debit and credit cards at hand.
Sales Techniques
Direct response marketing uses four specific sales techniques. No matter what media you use, the advertising must first have a great offer that catches people's attention.
Secondly, your ad must give enough detail about your product. This allows consumers to make informed decisions to buy.
Thirdly, you must have a call to action in your ad. You must encourage people to get in touch. You can do this with the right form of words and with a good offer.
Finally, tell people how to contact you. Give them a phone number and a web address. And repeat this if necessary.
Success
One of the benefits of a DRM campaign is that you can judge its success quickly and easily. If you put out an advert in a daily newspaper, for example, you can expect responses within a limited time frame. Within a day, you'll know whether you need to change the offer or continue the campaign.
Another benefit is that you can apply DRM to almost all products and services. You simply target your market. DRM can therefore give you major help with your sales efforts.
You might also like...