Who are Venture Capitalists?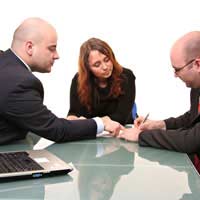 Another source of finance for entrepreneurs is venture capital, sometimes called private equity finance.
Like the money from business angels, venture capital is not a loan. It's an investment in return for which an entrepreneur supplies shares in the business. Unlike business angels, however, venture capitalists rarely become involved with daily business affairs, although they may give advice about general strategy.
What Venture Capitalists are Looking For
Venture capitalists have a large amount of money at their disposal. Consequently, they tend to take the form of companies rather than individuals. Nonetheless, these companies have experienced and possibly well-known business personalities leading them.
The sort of investment that interests a venture capital company usually starts at around £2 million, although some of the smaller groups are prepared to consider lower sums. To attract this money, entrepreneurs must have a product or service that stands out from the crowd. In other words, the product or service must have a unique selling point and a clear competitive edge.
The business must also have a potential for significant earnings within a given period of time. Venture capitalists expect a high level of return on their investment, and depending on the product or service anticipate receiving this in 3 – 5 years.
As a result, entrepreneurs must prove they have excellent management skills. The best way of achieving this is showing evidence of previous business successes. This means that a proposal from a new entrepreneur may have difficulty securing venture capital finance. One possible way round this is to have a management team with a record of involvement in profitable enterprises.
Once an entrepreneur makes a deal with a venture capital company, however, the future can look good. Venture capitalists bring with them a great deal of business credibility, and this is useful if an entrepreneur later requests money from other sources.
Preparing a Business Plan
Venture capital companies prefer bold and highly detailed business plans that demonstrate realism and practicality. This can be a tall order for even experienced entrepreneurs, especially when it comes to making the necessary financial projections. The answer is to use an accountancy firm with a track record in preparing this type of plan.
Potential Drawbacks
Finding the money for a specialist accountant is clearly a potential drawback. A one-off payment for work on the business plan is not the only expense, though. Negotiating with a venture capitalist company can take a while, and during the course of numerous discussions, an entrepreneur may have to seek professional help time and again. The business plan may need revising, for instance, and the financial projections reworked.
It's also likely that an entrepreneur will have to seek regular legal advice. Issues covered may include the agreement with the venture capital company, and the distribution of the shares in the business. Such legal costs can soon mount up.
British Venture Capital Association
Entrepreneurs who want to investigate whether venture capital is what they need can contact the British Venture Capital Association. This can provide some initial help and introduce entrepreneurs to venture capital companies.
You might also like...