Tips on Making a Pitch for Finance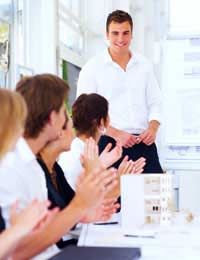 Every entrepreneur who needs outside money to finance a business has to make a pitch to investors. To ensure this goes as successfully as possible, it's important to plan well in advance and anticipate what's required.
A Loan or Equity Finance?
The nature of an entrepreneur's pitch depends on whether the money sought is a loan or equity finance.
A loan generally comes from banks and other financial institutions. An entrepreneur must account for regular repayments, interest on the capital, and the repayment period. In principle, this is relatively straightforward.
Equity finance (or risk capital) comes from business angels and venture capitalists. In return for providing money, these investors expect a share in the ownership of a business, and sometimes a degree of management control. These issues can be far more complex to address.
Whether an entrepreneur's audience is a lender or an equity finance investor therefore dictates the content of the pitch.
Business and Marketing Plans
Before the pitch even takes place, the business plan (and marketing plan if appropriate) should explain the business proposal as comprehensively as possible. An entrepreneur must not assume, however, that investors will read the plans from cover to cover.
In reality, investors only pay attention to executive summaries. An entrepreneur making a presentation should therefore not refer to the plans on the assumption that everyone in the room is familiar with them.
Nonetheless, an entrepreneur should use the business plan and marketing plan as the sources for facts, figures and relevant information for a pitch. Everything relevant is already in the plans, so why not base the presentation on them?
Anticipation
An entrepreneur planning a pitch should always try to see things from the point of view of the audience. Investors are keen to provide business finance – it's how they make a living – but they like to see that an entrepreneur has considered matters from their side.
An entrepreneur must address the investors' likely concerns. In the case of equity finance, an entrepreneur must also demonstrate how the proposed business will benefit from the talents and experience of business angels and venture capitalists.
To help achieve these aims, an entrepreneur should emphasise the terms of the business finance arrangement; the profit that will result from the investment; and the actual and required skills of the management team.
The Presentation
If an entrepreneur already has members of a team in place, there's no harm in them attending a pitch. Everyone must know exactly when they are due to speak, however, and what they have to say. There must be no confusion or interruptions among the team. To avoid this, a pitch rehearsal is always useful.
The attitude of an entrepreneur – and a team if present – must be one of professionalism and passion. These are the two key characteristics that investors expect an entrepreneur to exhibit.
Professionalism should be evident in the informative, relevant nature of the pitch. An entrepreneur should also give direct, no-nonsense answers to questions, even to the extent of admitting ignorance on a particular topic and promising to get back to the investor as soon as possible.
An entrepreneur's passion about a business should be clear from the start. Enthusiasm should not override realism, however. No investor wants to give money to someone too easily carried away by the potential of a business idea.
After the Pitch
If a pitch is successful, an entrepreneur must incorporate the investors' cash, and their expertise if necessary, in a revised business plan. With the finance sorted out, an entrepreneur can then proceed to put a business dream into practice.
You might also like...