How I Used I.T. to Help Me Establish My Business: Case Study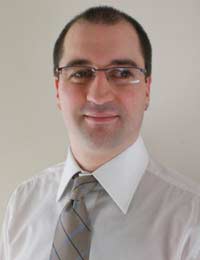 After earning a living as a taxi driver, Wayne Armitage borrowed money from an uncle and opened a small travel business. The company has three minibuses and two coaches, and specialises in corporate contract work. For Wayne, however, the prospect of managing the operation was daunting, and he wondered how IT could help.
Business Needs
"I'm a great computer enthusiast in my spare time. So naturally I thought I could do something with IT to ensure my business ran as smoothly as possible. I also wanted IT to free up my time for other things, such as driving.
"My first reaction was to buy a state of the art computer for the office, one that would last for a while and do everything I'd ever ask of it. While I was talking this through at a local computer retailer, however, the salesperson interrupted and started to ask me about my business. Before long I realised that I was on the point of spending an unnecessary amount of money. In fact, the salesperson rightly pointed out that to meet my business needs, I only required basic IT.
The Basics
"It was now clear to me that all I had to have was a computer on which I could write occasional letters; send and receive email; create and send invoices; and maintain my accounts. I could achieve all of this with a run-of-the-mill (and inexpensive) desktop, and some standard small business accounting software.
Future-proofing
"That said, I still didn't buy a computer there and then. Instead I went home and began to run through some business options for the future. I wanted to future-proof my IT as much as possible so I didn't need to change the system every year or so.
"I considered my business plans and the proposals for expansion. Even then, because I didn't intend to have more than one person in the office, I still felt that a standalone computer would suffice. A network system with a server was obviously over the top.
"I also spoke to my accountant about the accounting software. She recommended a particular brand that was compatible with her own system and would save me a lot of money in accountancy fees at the end of each year.
"One other thing that the accountant mentioned stuck in my mind. She said that I had to keep financial records for a certain number of years. Consequently, it struck me that I needed a secure way of doing this. In other words, I had to maintain a copy of the data in case I lost the original.
Making a Purchase
"Following all this, I went back to the shop and bought a standard computer with the software recommended by my accountant, and an external hard drive for storage. I also signed up with a broadband provider, and registered a suitable domain name for the business to use with my emails.
"This is all the IT I required – but it's proved a tremendous help. So my advice is to match the IT to your actual business needs, and not to what you feel you want. You should also seek the opinion of anyone who can help. The result is that you may not have to spend as much as you first thought."
You might also like...