How to Write a Marketing Plan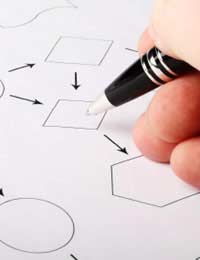 Without effective marketing, a business will probably fail. Writing a marketing plan provides an opportunity for an entrepreneur to prevent this by determining what customers to target and how.
Executive Summary
An entrepreneur should begin a plan with a summary of the central points. Consequently, it's wise to leave the writing of the summary until last, when all of these points are clear.
Overall Strategy
The next part of a marketing plan should contain a review of the business' overall strategy. The purpose is to ensure the plan, and in particular the marketing strategy, match the aspirations of the business.
PEST
Analysis goes hand in hand with any marketing proposal. A plan should therefore have both a PEST and a SWOT analysis.
A PEST analysis identifies the external threats and opportunities in a market. The 'P' stands for the political changes a market faces, such as new regulations. The 'E' refers to economic issues. For example, currency exchange rates and borrowing interest rates. 'S' is for the social factors that determine marketing habits. These include developments such as the growth in the over 50s market. 'T' represents technological matters, among which are e-commerce.
SWOT
A SWOT analysis considers the internal strengths and weaknesses of a business, and the external opportunities and threats. For marketing purposes, a SWOT analysis helps to establish likely customers, and identifies weaknesses in a business that may hamper a sales drive.
SMART Objectives
The objectives of a marketing plan must match those of the business plan. They generally refer to such matters as increasing the sales of a product or service by a certain percentage over a given time.
To be effective, however, marketing objectives must be SMART. This translates as specific, measurable, achievable, realistic, and time-bound.
'Specific' relates to a marketing target: acquiring a 10% increase in customers, for instance. 'Measurable' is about the need to confirm a target is reached – or not. 'Achievable' applies to the resources required to meet the objective. 'Realistic' means that targets must be reasonable. 'Time-bound' refers to a deadline to reach an objective.
Marketing Strategy
The strategic part of a marketing plan explains who the customers are; what they need; and what an entrepreneur is offering them. The strategy also includes details of competitors and how a new product or service will tempt customers away from them. Alternatively, it outlines how a business will gain customers that are new to the market.
Tactics
Marketing tactics turn objectives and strategies into sound commercial propositions. To achieve this, the tactics have seven P's: people; physical appearance; place; pricing; processes; product; and promotion.
An entrepreneur must have the right people for the job; an appropriate physical appearance for premises, staff, and products; an effective place to sell from such as shops or the Internet; prices that match customers' expectations; processes that guarantee high quality customer service; a product that's in demand; and a promotional strategy.
Implementation
Implementation of a marketing plan doesn't happen by itself. The plan must have details of who is doing what, by when, and how. This part of the plan must also have the cost of the project, and the sales forecasts.
Key Points
A marketing plan needs to include all of the above key points. An entrepreneur is then in a good position to commit the necessary time, resources, and finance to introduce a new product or service.
You might also like...