Richard Branson: New Takes on Existing Ideas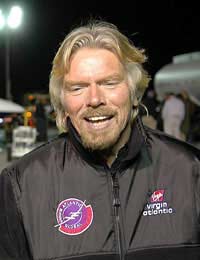 One way to seek ideas for business, and to gain inspiration, is to study the working methods of successful entrepreneurs. And Richard Branson is, by any definition, a success. He began his business activity in his teens, and has since become a billionaire.
Early Years
Branson was born in 1950. By 1970, he ran a mail order record company as well as selling records from the boot of his car. He then opened his first shop in Oxford Street, London.
Branson sold records at reduced prices. Other record shops tended to sell at set amounts. Branson's cut-price methods gained him success and popularity with the general public. Before long, this popularity focused on the brand name he traded under: Virgin.
Expansion
It was a natural step for Branson to expand from owning a record shop to setting up a recording company. In 1972, he signed Virgin's first artist, Mike Oldfield. Oldfield's Tubular Bells album sold more than five million copies, and helped secure the future of Virgin records.
Branson was always looking for new challenges, though. Virgin signed up a host of artists who were already successful such as The Rolling Stones. But the company also gave breaks to groups like the Sex Pistols when other major record companies were unwilling to take on such artists.
Having made Virgin such a success in the music world, Branson began to look in other directions. He saw opportunities in some of the most established 20th century industries.
Among these industries was transport. In 1984, Branson created Virgin Atlantic Airways. He offered flights that were better value and quality than those of his competitors. The result was that Virgin Atlantic made a profit in its first year.
Reinventing
Branson continued his quest to reinvent public transport by winning rail franchises in 1997. Virgin Trains were comfortable, fast and, once again, good value.
Branson has also moved into the mobile phone market, the cosmetics industry and the drinks business. In each case, he has used the Virgin brand name. The public has come to associate this with excellent service, good prices and innovation.
One of Branson's latest enterprises is Virgin Galactic. This is an airline company that gives passengers trips into space.
Business Ethos
From the start of his career, Branson has used a simple principle. He first takes an existing product or service. The companies offering this product or service are usually doing so in a tried and tested way. But it's a way that doesn't always benefit the consumer.
Branson then enters the market with a similar product or service that focuses on a better customer experience. What this means in practice depends on the industry. With Virgin Atlantic Airways, Branson gave customers free in-flight meals and drinks, and TV screens on the back of each seat. Many passengers saw this as a sign that Virgin treated them with greater respect than other airlines.
Limelight
Branson also stays in the limelight. He leads from the front. He gives each new enterprise a great deal of media coverage by launching it himself.
This needs a lot of enthusiasm. But this is just what Branson has. He acts as an inspiration to entrepreneurs because he has a tireless approach. And just as important for the success of his businesses, consumers regard Branson as trustworthy. He offers them the quality products they want for the right price.
You might also like...