A Checklist for Setting Up a Shop or Office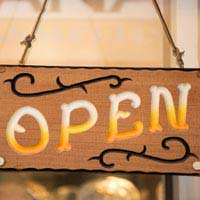 Setting up a shop or office from scratch is a major feat of organisation. To help the process, create a checklist of everything that the business needs. This list should include relevant deadlines and also allow for the unexpected.
Premises
Never rush into taking a particular shop or office. Visit as many as possible in and around the desired location.
Cary a list of criteria and compare each property against these. The criteria should include:
The cost of the rent, lease or freehold
The available space
Parking facilities for staff and customers
The number of power sockets and phone points
Kitchen and toilet facilities
Air conditioning
Heating
Shopfitting
Without previous experience it's hard to estimate the cost of shopfitting. After narrowing down the potential shop to one or two premises, ask a shopfitter to provide quotes.
Office Furniture
When setting up an office, seek quotes for the required number of desks and cabinets. Bear in mind that used office furniture can be clean, tidy and usable. It can also save a lot of money.
For new office desks and chairs, try the chain stores in retail parks. Many shops, including supermarkets, sell cheap office furniture.
IT
Check IT costs carefully. The hardware, software and payment system depends on the type of business. But whatever's needed, shop around.
Plenty of IT companies provide quotes for setting up shop and office systems. Whenever such a company suggests a certain server or piece of software, ask why the business needs it.
It's unwise to buy a cheap computer set-up that may let you down. On the other hand, don't buy a system that has features you simply won't need.
While considering IT, also enquire about renting hardware rather than buying. This could be a more cost-effective option.
Fixed Costs
Before agreeing to rent, lease or buy a shop or office, work out the fixed costs. Contact the local council and ask about the annual business rates (also called national non-domestic rates). Get quotes from a number of phone and broadband suppliers. And establish the estimated gas and electricity costs.
Salaries
Know exactly how many staff the shop or office needs. Check out the local rates of pay. A trade association or chamber of commerce may be able to give advice.
Ask an accountant to explain what an employer has to pay in addition to the salaries. Among these extra expenses are the employers' national insurance contributions. And ask the accountant to estimate liability for sick pay, maternity pay, paternity pay, holiday pay and agency cover.
Shop and Office Supplies
Buy a computerised stock control system when setting up a shop. This maintains an up to date list of costs.
Offices need regular supplies in the form of paper, pens, staplers, files and so on. Don't underestimate the cost of these. An accountant experienced with office start-ups may be able to give approximate quotes.
Hunt around for an office supply company that offers next day delivery. Some of these companies offer both a convenient phone and Internet ordering service.
You might also like...